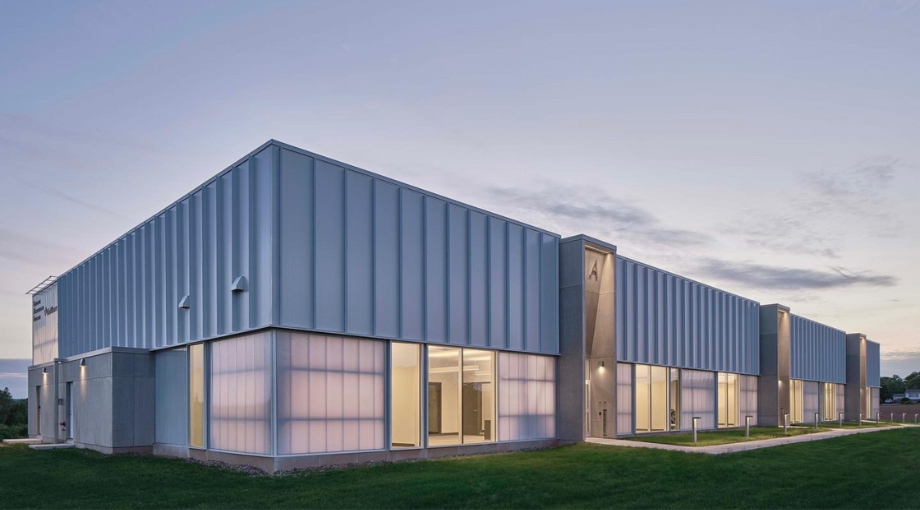 Charlottetown, PE – The Canadian Alliance for Skills and Training in Life Sciences (CASTL) has launched their first series of hands-on training short courses to be delivered at the new CASTL Biomanufacturing Training Facility located in Charlottetown, Prince Edward Island. As the exclusive provider of the National Institute of Bioprocessing Research and Training (NIBRT) curriculum, CASTL will deliver theoretical and hands-on competency-based training.
The instructor-led short courses consist of lectures which are delivered online or in person, enhanced by practical sessions delivered at the CASTL training facility. The facility contains state-of-the-art pilot-scale bioprocessing equipment that allows trainees to gain practical skills that are immediately transferable to process scale-up and clean room environments. It is also equipped with laboratories and classroom spaces built to deliver the highest quality training to industry professionals.
"This initial short-course offering in Prince Edward Island marks a major milestone in CASTL's national biomanufacturing training program," said Penny Walsh-McGuire, CASTL Executive Director. "We continue to hear from employers across Canada about the need for practical hands-on training to support Canada's rapidly expanding biopharmaceutical manufacturing sector. This is an important step forward in further developing the skills and training ecosystem"
"Training highly-qualified personnel who will drive the growth of the Canadian life sciences industry is at the heart of our mission, and part of this objective is to make sure that we will be able to answer the demand in biomanufacturing. These new short courses from CASTL do just that", added Dr Christine Allen, VP, Ecosystem of adMare BioInnovations. "Our adMare Academy trains undergrads to industry executives and provides them with the knowledge, skills, and network to start or grow their career in the Canadian life sciences sector. We are proud to be the lead national partner of the CASTL Programs, which allows for hands-on biomanufacturing high-in-demand training and ensures Canadian companies have the talent they need to succeed today and in the future."
CASTL's new Biopharmaceutical Manufacturing Onboarding Boot Camp, a 4.5-day hands-on training course, introduces the necessary fundamental knowledge and practical operations needed to onboard new employees successfully and prepare them to navigate a biopharmaceutical manufacturing facility. It includes both hands-on practical training and theoretical knowledge covering good manufacturing practices (GMP), good documentation practices (GDP), gowning, aseptic techniques, and how to operate the common equipment for all jobs in a manufacturing environment.
"Upon successful completion of the course, trainees will be prepared to navigate their way through a biopharmaceutical manufacturing facility," said Paul-Xavier Etter, CASTL's Director of Technical Training. "The boot camp is designed for onboarding newly hired operators and technical staff as part of their onboarding in a modern biopharmaceutical or bioprocessing facility, as well as an individual working in a supporting role in manufacturing, such as QA auditors."
Courses include:
• Introduction to Bioprocessing
• Biopharmaceutical Manufacturing Onboarding Boot Camp
• Introduction to Downstream Processing
• Introduction to Upstream Processing
To register or learn more, visit www.castlcanada.ca/short-courses/ or contact Sidney Reid at sidney@castlcanada.ca
This initial short-course offering in Prince Edward Island marks a major milestone in CASTL's national biomanufacturing training program. We continue to hear from employers across Canada about the need for practical hands-on training to support Canada's rapidly expanding biopharmaceutical manufacturing sector. This is an important step forward in further developing the skills and training ecosystem

Penny Walsh-McGuire
Executive Director, CASTL
Training highly-qualified personnel who will drive the growth of the Canadian life sciences industry is at the heart of our mission, and part of this objective is to make sure that we will be able to answer the demand in biomanufacturing. These new short courses from CASTL do just that. Our adMare Academy trains undergrads to industry executives and provides them with the knowledge, skills, and network to start or grow their career in the Canadian life sciences sector. We are proud to be the lead national partner of the CASTL Programs, which allows for hands-on biomanufacturing high-in-demand training and ensures Canadian companies have the talent they need to succeed today and in the future.

Dr Christine Allen
VP, Ecosystem, adMare BioInnovations
Course Details
INTRODUCTION TO BIOPROCESSING
DELIVERY: Virtual classroom
LENGTH: 5 Hours
PRICE: $700+HST
DATES:
September 15, 2022
September 28, 2022
November 30, 2022
BIOPHARMACEUTICAL MANUFACTURING ONBOARDING BOOT CAMP
DELIVERY: Onsite at CASTL Biomanufacturing Training Facility in Charlottetown, PEI
LENGTH: 4.5 days
PRICE: $5,000+HST
DATES:
October 3 – October 7, 2022
October 31 – November 3, 2022
INTRODUCTION TO DOWNSTREAM PROCESSING
DELIVERY: Onsite at CASTL Biomanufacturing Training Facility in Charlottetown, PEI
LENGTH: 2 days
PRICE: $3,000+HST
DATES:
October 19-20, 2022
November 16-17, 2022
INTRODUCTION TO UPSTREAM PROCESSING
DELIVERY: Combination virtual theory and practical onsite at CASTL Biomanufacturing Training Facility in Charlottetown, PEI
LENGTH: 1 day Theory
2 days Practical
PRICE: $1,400+HST Theory only
$4,200+HST Theory and Practical
DATES:
Theory:
October 14, 2022
November 10, 2022
Practical:
October 17-18, 2022
November 14-15, 2022